Grand Piano Mover in South London and the South of England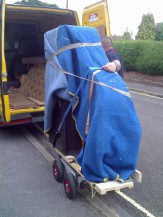 We are a grand piano mover with 15 years experience.
We dismantle, wrap, move and reassemble boudoir, parlour, or grand pianos up to 6' 6" in length.
We also move upright pianos and organs both locally and across the UK.

Pianos are insured in transit from first to last touch (up to a maximum of £10,000). We also have public liability insurance cover.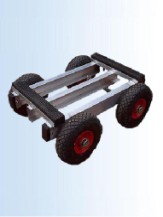 Call us on 020 7720 0660 to discuss the details, timings and cost of your move. Whenever possible, the arrangements will be confirmed by email.

SW Piano Movers is a grand piano mover based in Upper Norwood, South London. 
You can see a video of our techniques here.
Grand Piano Mover's Equipment
We carry the following equipment on our vans:
1) Piano shoes and skids. These are items of equipment necessary for moving grand pianos, which have to be turned on to their side.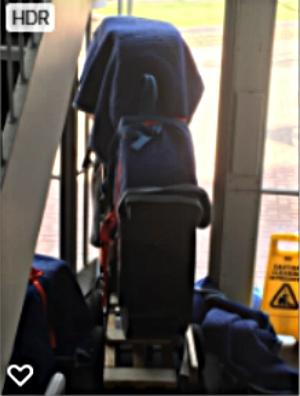 2) Piano trolley with good sized wheels. 

3) Piano transit cover and quilted pads:
Their main use is for storing a piano on the van to prevent other items damaging it. When actually manoeuvring a piano, heavy quilting can be a hindrance, since grip and vision may be impaired.
4) Boards, ramps, blocks and chocks for steps.
5) Blankets and plastic sheet, and cardboard for wrapping panels, protecting floors and manoeuvring pianos.
6) Movers Ties and heavy duty ratchet straps: Take care to exert only minimum pressure with the ratchet. It is the thickness and strength of the strap which is important so you can hold it well and trust it. 
7) Various special tools for working with unusual attachments and situations.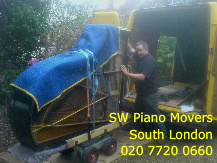 7) Screwdrivers, soft faced mallet, socket sets and pliers.

The lyre, legs, key cover, desk and lid (and hinges) are all removed and wrapped prior to moving.


Our best advice regarding musical instruments insurance.


Back to home page.
---
© and ™ swpianos.co.uk All Rights Reserved 2010 - 2020