Skilled Piano Disposal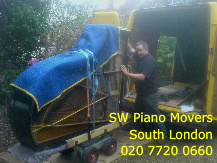 Moving a grand piano
SW Piano Movers offer a skilled piano disposal service in London and South East England. We are based in SE19, South London.
Yes, we can safely extract, remove and dispose of your piano at a licensed waste site, where as trade waste, it will incur a tipping charge.

No, we never buy old pianos nor remove them free of charge. We are not piano dealers and we cannot rehome old pianos.
An old piano!
You will be ready for our service when you have determined that your piano has reached the end of its useful life or you cannot find a new home for it.
Although your piano may have reached the end, extracting and disposing of it will require care so as not to damage your home, floors or fittings.
Please call us to discuss it!
Piano Moving Equipment
We will protect your carpets and wooden or tiled floors, and all other fittings steps including exterior surfaces from steps to pathways and lawns.
We use:

Blankets to protect your floors.
1) Quilted moving pads (padded blankets) protect carpets, floors, stairs and brick steps - as well as pianos.
2) If needed, boards over floor tiles laid over wooden floorboards.

3) Blocks and ramps to avoid contact with vulnerable plastic double glazed thresholds.

4) Weight spreading wide profile piano trolley wheels.

We specialise in moving upright and grand pianos, and can carefully remove your unwanted piano and take it to a proper licensed facility.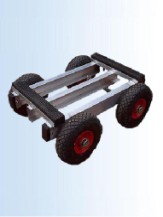 Pneumatic tyred trolley
Piano disposal by a registered waste carrier
We are primarily piano movers, but in order to handle and dispose of other people's unwanted pianos, we must be registered as a waste 'carrier dealer - upper tier' with The Environment Agency.
You are encouraged to view and note my waste carriers licence. 
Households, businesses, and organisations are increasingly aware that they should dispose of their old piano properly. By using my service and noting my details, a domestic client will have met a simple duty of care to use a registered waste carrier.
Businesses and organisations have a higher duty of care and will require a completed waste transfer note.
If you need a careful piano disposal, call 020 7720 0660


SW Piano Movers offer a skilled piano delivery and manoeuvring service to the public in London and South East England. We handle upright and grand pianos and pianolas up to 6.5 feet in length.
We also;
Deliver to all areas of the UK and can quote for European deliveries.
Maintain all necessary insurances.
Work at weekends, which we find convenient for people who cannot be available during weekdays.
© and ™ swpianos.co.uk All Rights Reserved 2010 - 2021