Gliding Piano Castor Cups
(Pack of 4)

Gliding piano castor cups offer protection for all hard floor types and allow you to move the piano so that you can clean behind it or reposition the piano within a room.
Scroll down this page to buy directly from this site, or you can buy them from my ebay listings.
ebay listing for single thickness felted cups 
or
ebay listing for universal double felted cups
---
Variations of Piano Castor Cup Packs Offered
1) Doubled felted with concentric holes.
2) 3 sizes of centre hole to match the size of your castors.
3) Mixed size castors.
Click to buy

Mixed sized castor pack includes:

2 universal castor cups for single castors.

2 cups with large 20 mm holes for castors measuring 35 - 50 mm in diameter, or wide twin wheeled castors.

Inflatable wedge Piano Lifting Tool

 Available to buy at the checkout when purchasing castor cups. These wedges allows you to effortlessly raise your upright piano 10 mm: high enough to slip your gliding castor cups underneath the castors.
---
These gliding piano castor cups measure 60 mm in diameter and are adapted for upright pianos.
They provide an inexpensive and effective solution to two problems:
1) The piano castors should not make direct contact with a wooden floor.
2) You may need to move the piano without damaging the floor. These cups allow you to clean behind the piano, or to move it within a room.

I carry packs on the van for you to buy when we deliver your piano.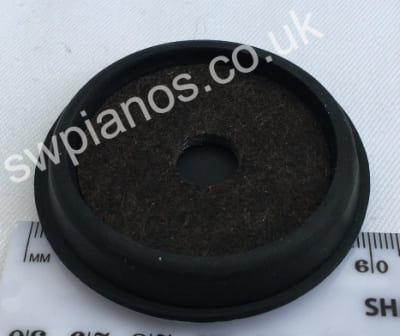 The castor cups have an outer diameter of 60 mms and inner well diameter of 45 mms.
The castors' size should not exceed diameter 50 mms or 44 mms in width.
The well of the cup is lined with stiff 4 mm felt and provides an effective cushion, while the centre hole gives purchase to stop the castor rolling out of the cup.
Select the correct size of centre hole to fit your castor. The correct size of centre hole allows the castor to grip the felt and spread the piano's weight.
---
Tip 1: Ensure the floor is clean and free from dirt and grit before moving the piano.
Tip 2: Even when using sliding cups, never be tempted to manoeuvre a piano alone:

Two people are necessary because the first thing you need to do is to each stand at opposite ends of the piano, with a hand each between the top left and right corners of the lid and the wall. Slide the piano one end at a time, little by little, away from the wall, noting that when one end comes out the other end will try to move into the wall, stopped by your hand pulling it away.
---
---
© and ™ swpianos.co.uk All Rights Reserved 2010 - 2022