Part Time Work 
Suitable for semi retired people, carers or students etc, offered In Dulwich and Croydon area of South East London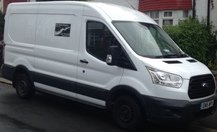 SW Piano movers van
May 2019

Please read the page carefully.
I am a piano mover in South East London, SE19. I need a local assistant for occasional part time work as part of a small team. No previous experience is needed..
I need reliable presentable people with the ability to listen to and follow instructions. The work is varied and enjoyable for the right curious individual willing to learn. Ideally, you will be around for a long time, rather than passing through.
Job description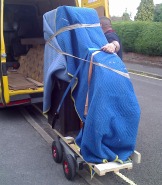 I undertake work for schools, theatres and the public. We move pianos and organs locally and longer distances.
You will need to be able to apply yourself to, and enjoy physical work but you don't need experience or unusual strength. We are most definitely not weight lifters. I decline work I consider too hard, difficult or dangerous.
Whereas you need to be able to apply yourself both physically and mentally, people of slighter build can apply with confidence (there is a role for people who can both slip between tight gaps and fit comfortably in the van!).
Expect plenty of travel time.
Piano moving is about careful techniques and problem solving and every job is different. It will be important that you can fit in with my team.
This position may suit a student or any person who has other flexible commitments. This position is not suitable for people looking for full time work.
I need assistants who:
Take a look around my website to see what we do. If you are interested:
Reply to: Stephen Willett
swpianos@hotmail.co.uk
1) Your name and age.

2) Postcode where you live.
3) Contact phone number.

4) A brief description of yourself, what you are currently doing,

5) Your available days and times, and any commitments together with any other relevant details.

6) Tell me how you get about town.
I do not wish to see your CV!

Further Information
Location: West and Upper Norwood
Type of Contract: Part time work
weekdays sometimes yes / weekends sometimes yes
Type of Job: crew member
Full UK/EU driving license preferred: No
Car Preferred: No
Must be eligible to work in the EU
Languages: English
© and ™ swpianos.co.uk All Rights Reserved 2010 - 2021