Organ Moving and Transport
SW Piano Movers are based in South London and have experience in organ moving.
The organ pictured is a reed organ. It's pedals, bellows and foot pedals were detached, and we removed it from a church in Devon and transported it to Inverness in Scotland.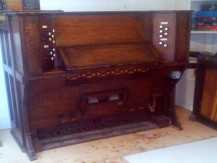 Typically, moving an organ requires plenty of time for careful planning, both before and during the move. However, using boards, chocks, trolleys, rollers, heavy plastic sheet and suitable manpower,  we will be happy to arrange your move with a minimum of fuss.
Instruments are insured in transit from first to last touch (up to a maximum of £10,000). We also have public liability insurance cover.
If you need to move an organ you have bought, or are transferring between friends or family, we can help. We carry heavy covers and padded blankets, boards, ramps, piano shoes and skids in anticipation of difficulties and have the experience to move your piano with a minimum of fuss. We have large pneumatic tyred trolleys for easy movement over rough terrain.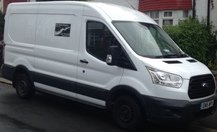 Organ Disposal
We are primarily piano and organ movers, however, in order to handle and dispose of unwanted organs, we must be registered as a waste 'carrier dealer' with The Environment Agency.
Please do view and note my waste carriers licence. 

Organ strapped up for disposal
Households are increasingly aware that they should dispose of their old piano properly. By using my service and noting my details, you will have met your simple duty of care to use a registered waste carrier.

Businesses, and organisations will require a copy of the waste transfer note which will be issued on collection of the organ.

If you need an organ carefully removed, or disposed of, call
020 7720 0660
Please note that we do not handle large pipe organ installations.
Organ moving enquiries
You can use the enquiry form from the left margin or call: 020 7720 0660.
SW Piano Movers offer a skilled delivery and manoeuvring service to the public in London and South East England.
We also deliver to all areas of the UK and can quote for European deliveries.
We work at weekends, which we find convenient for people who cannot be available during weekdays.
We maintain all necessary insurances, and you can view our certificates online by requesting a password.
Call us on 020 7720 0660 or use this form to enquire about organ moving.

---
© and ™ swpianos.co.uk All Rights Reserved 2010 - 2022